The circus arrives without warning. No announcements precede it. It is simply there, when yesterday it was not. Within the black-and-white striped canvas tents is an utterly unique experience full of breathtaking amazements. It is called

Le Cirque des Rêves

, and it is only open at night.





But behind the scenes, a fierce competition is underway—a duel between two young magicians, Celia and Marco, who have been trained since childhood expressly for this purpose by their mercurial instructors. Unbeknownst to them, this is a game in which only one can be left standing, and the circus is but the stage for a remarkable battle of imagination and will. Despite themselves, however, Celia and Marco tumble headfirst into love—a deep, magical love that makes the lights flicker and the room grow warm whenever they so much as brush hands.





True love or not, the game must play out, and the fates of everyone involved, from the cast of extraordinary circus per­formers to the patrons, hang in the balance, suspended as precariously as the daring acrobats overhead.





Written in rich, seductive prose, this spell-casting novel is a feast for the senses and the heart.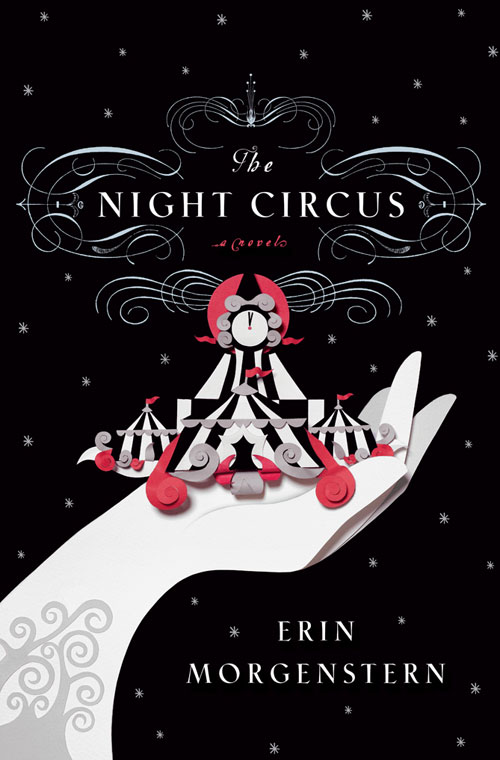 I'm really not sure what the heck to say about this book.
That . . . for a while I thought I'd give it a million stars, and for a while I thought it'd only be 3 or 4.
That . . . I should read more adult fiction if it's like this.
That . . . the cover is incredible and shiny and perfect.
That . . . it was beautiful.
I didn't know what I'd think about this book. I'd heard some people sing praises about it, especially about the writing, and we all know how I love good writing. But I'd also heard some very negative things about it. I just didn't know.
I started it, and fell in love. With the gorgeous writing, so old and elegant and beautiful. With the intriguing, mysterious plot. The feel of the whole thing.
And as it went on and on, I realized something. Something besides the fact that while this book is technically 387 pages it's more like 700.
The pitch is a big fat lie.
Oh, some parts are true enough. The parts about the circus, at least. But the parts about Celia and Marco? Well, if not lies, they are certainly misleading. When I hear about the fierce competition between two magicians, you know what I picture? I picture a duel. Two magicians actually confronting one another in a test of magic.
And that is really not the case with this book.
Am I saying that this is a bad thing? No. It worked for the book, and I think the plot of this book is absolutely brilliant. But there is no dueling, no confrontation. Their "fierce competition" is the two of them adding tents and attractions to the circus. That's it. So if you are entering this book expecting a bunch of action and fighting, I'd suggest you set your mind straight.
But aside from the fact that the publishers mispitched this, I had only a few minor complaints. Most of it was incredible. The plot was so complex and well thought out that I can only wonder how long it took Ms. Morgenstern to craft something like this. The writing was beautiful and enchanting and absolutely perfect for the story. Most of the characters were mysterious and intriguing and well-portrayed. The whole setting and idea of this book was incredibly original and incredibly alluring.
My minor complaints were just that: minor. I wasn't always crazy about Marco. Sometimes I really liked him, and sometimes I wanted to smack him. If he hadn't strung Isobel along for so long a lot of things might never have happened. But in the end, he was who he was, and that was enough for the story. Sometimes, I wished the story would move just a bit faster. It never bored me so much as I just felt frustrated because the pages were so big and made me feel like I was making no progress in this huge story that spanned over thirty years. I entered this story filled with misconceptions born from the pitch, and the slow and stately pace was just not what I expected. And finally, there were a few things that were never fully explained. Obviously some things the reader must pick up, but there are the context clues there for the reader to piece together. For some things, though, there was never any real explanation, and that just frustrated me a bit. I like to understand things by the end of a story.
But that aside, the fact is, this is incredible. It is magical and haunting and gorgeous and a bunch of other lovely adjectives. Some might argue that I shouldn't give a 5 star to something if I had that many complaints, however minor, but truthfully, this is too fantastic for me to give it anything else.
5 stars.